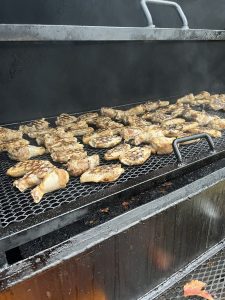 One of the best things about Esther is her ability to handle so much food. She can handle a dozen briskets or 20 pork butts with ease. That is enough food to feed over 100 people and she does it without breaking a sweat. I might sweat a little from tending her fire but she does not complain. She is completely wood fired. No gas assist or charcoal is used when she is cooking. Just get the fire going and she will chug along as long as wood is in her fire box.
There is something beautiful about cooking with fire. It takes patience and there is a lot of respect the pit master has to give the fire and the smoker. You need to know when she is hungry and when she needs a little extra time to calm down. It is a dance of sorts.
Esther has been such a happy girl since we acquired her from her builder. She was used sparingly before she came to us and now she is doing what she loves much more often.