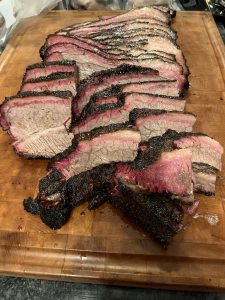 BBQ Underground is a small operation that embraces the traditions of BBQ while also breaking some long standing rules that have never been questioned. We smoke our meat over hard wood in Esther, our lovingly named traditional offset smoker. We carefully tend her fire and manage the smoke over hours and hours of cook time to make sure you get the very best BBQ. We then slice or pull the meat, vacuum seal it and freeze it to maintain the perfect BBQ flavor for you to reheat at home. This is where we break with tradition. We want everyone to enjoy traditional wood smoked BBQ whenever they want it. Just reheat the bag, cut it open and enjoy it.
For those of you who want immediate gratification, we will be doing popup appearances at the Worcester Regional Food Hub location at 446 Main Street in Worcester. We will be offering everything from traditional Texas BBQ to quirky sides or sauces you might not expect.
If you are looking for some BBQ for an event, Esther is happy to travel as well. She can come to you and put on a BBQ show. Just ask Chris how to make it happen.
Chris Miller has been playing with his food as long as he can remember. His obsessive personality lends itself to managing a fire all day to coax the very best out of Esther. He is willing to try anything in a quest to make something spectacular that you might not expect. He loves to mash traditional BBQ up with other cuisines. Stay tuned for the unexpected.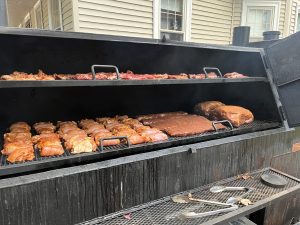 Esther is the workhorse of the operation. She is a custom built 200 gallon reverse flow offset smoker with the muscle to handle a full payload of brisket or the finesse to manage chicken wings or shrimp. She is mounted on a trailer and would be happy to make a visit to your event to really put on a show for any audience.