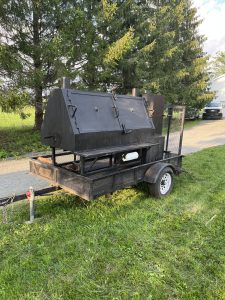 Esther has arrived. She was named by her creator and we have decided to keep the name.
We drove down to rural northeast Pennsylvania on a Sunday to pick her up from the farmer who built her. She was everything we were hoping she would be. She is a wood fired reverse flow offset smoker that has the capacity to handle over a dozen briskets or 24 pork butts in a single cook. She has a built in warming cabinet above the fire box for sides. She is mounted on a trailer and is mobile to be brought to events. She can be converted into a stand alone grill as well. Pretty versatile for a custom made smoker.
We now have to clean her up and get her registered so she can hit the road and get to work. We can't wait to see what she can do.